149-17 Cross Island Parkway, Whitestone, NY 11357 | Mon. - Fri. 9am - 5pm or by appt. |
Powering Your Home Experience with Expertise in Licensed Electrical, Smart Home Automation and Entertainment.
Welcome to Stellmann Electrical's captivating home audio page, where we take pride in curating the perfect sound system for your Queens, NY home. Whether you're an audiophile seeking the utmost in sonic perfection or a music enthusiast looking to elevate your listening experience, we have everything you need to create an audio masterpiece. With our guidance, you'll discover the ideal combination of top-quality speakers, receivers, cables, and adapters that harmonize seamlessly to bring your content to life.
we offer leading-edge manufacturers like Marantz, Sonos, Sony and Origin Acoustics that have earned their reputation for delivering exceptional audio performance, ensuring that every note, beat, and lyric resonates with sheer brilliance.
We understand that your budget is important, which is why we strive to offer competitive prices that make upgrading your audio system a reality. Immerse yourself in an unparalleled listening experience without breaking the bank. Contact us today to explore the possibilities and take the first step towards a more immersive home audio experience. Prepare to rediscover the power of music with Stellmann Electrical.
At Stellman Electrical, Queens, NY, we are like you, we feel the power of music, bringing families together and creating meaningful connections at home. We also understand that the world of home audio can be confusing, with a multitude of brands, systems, and features to choose from. That's why we created this page - and always available to help simplify the process. We know that expert advice is crucial, and our team is always ready to help you make sense of it all. So whether you want to set the perfect mood for a family gathering or unwind after a long day with your favorite music, we can help you create a home audio system that brings better vibes with the ones you love.
Headphones have become a beloved companion for audio enthusiasts, offering a escape into a world of clear, immersive sound. With an array of designs tailored to specific purposes, there's a perfect fit for everyone. From sports earbuds designed for active lifestyles to on-ear models delivering excellent noise isolation, you can enjoy your favorite TV shows or music without disturbances. Let us guide you to an ideal personal listening experience.
For those who truly appreciate quality in their music, our high-end stereo systems deliver unparalleled precision and detail. With precision turntables, powerful amplifiers, and meticulously crafted speakers, every instrument on an album comes to life with breathtaking clarity. Vinyl records and turntables are enjoying a renaissance, offering an authentic audio experience that transports you to a bygone era when listening was an art form.
Surround sound creates a truly immersive audio experience, but understanding the complexities of home theater sound can be overwhelming. Don't fret, our knowledgeable staff is here to guide you through the various technologies and terms, like Dolby Atmos, 7.2 surround, and DTS. We'll explain how everything works and offer help based on your individual preferences. Get ready to be enveloped in sound.
Imagine enjoying your favorite music throughout every corner of your home, including the outdoors. Whole house audio systems, like Sonos, have gained immense popularity, granting you the freedom to experience high-quality sound from any device, anywhere. Controlled through a user-friendly app, these systems seamlessly fill your home with stellar tunes. Transform your home into a harmonious soundscape with whole house audio.
WHAT ABOUT SPEAKER OPTIONS?
Speaker selection is one of the most important decisions you will make when it comes to setting up your home audio system. There are many options available, they include the common in-wall, in-ceiling, bookshelf, and floor standing models. If you have been shopping around you may have also seen invisible speakers and soundbars that would upgrade your TV mounting . Whichever solution you are looking for, Stellmann Electrical of Queens, NY offers high quality brands with expert installation.
Looking for a speaker that disappears into your walls and ceilings? Look no further than Stellmann Electrical and Sonos! Our in-wall and in-ceiling speakers are perfect for any home, new or old. With a variety of sound quality options to choose from, you can find the perfect speaker for each room in your house. As an example, you would probably want a higher quality speaker in the kitchen or living room where you spend the most time as opposed to a more budget conscious speaker in spaces where you may need background sound. Also keep in mind, In-wall speakers are usually installed in home theaters and media rooms for better "directional" sound. Either way, our selection of in-ceiling and in-wall speakers are designed to be heard - not seen - so you can enjoy great sound without ruining the aesthetics of your home.
BOOK SHELF &


FLOOR STANDING
"Box speakers" as they are often referred to, are the only speakers acceptable for a high-end listening experience. This is due to the way they are manufactured and calibrated. It is extremely difficult, if not impossible to get audiophile sound quality from an in-ceiling or in-wall type of speaker. This is because of the calculated air-space designed for each driver in the cabinet. The downside is the amount of space they take up and are an absolute nightmare for interior designers. If you are looking for unmatched sound in a smaller space, a smaller version of floor standing speakers are their bookshelf counterparts. These are perfect for office spaces and bedrooms where you want amazing sound but do not have the space for floor standing models. Floor standing speakers are the pinnacle of home audio hi-fi, handling a lot more power and dispersing a larger range of the frequencies. These speakers will give you the experience of listening to your favorite music like you are hearing it for the first time.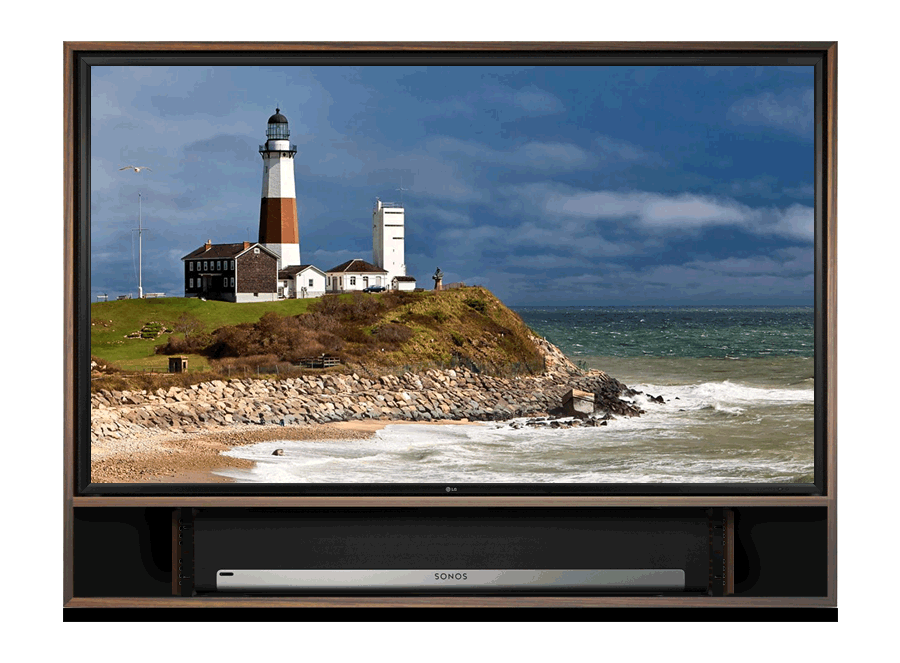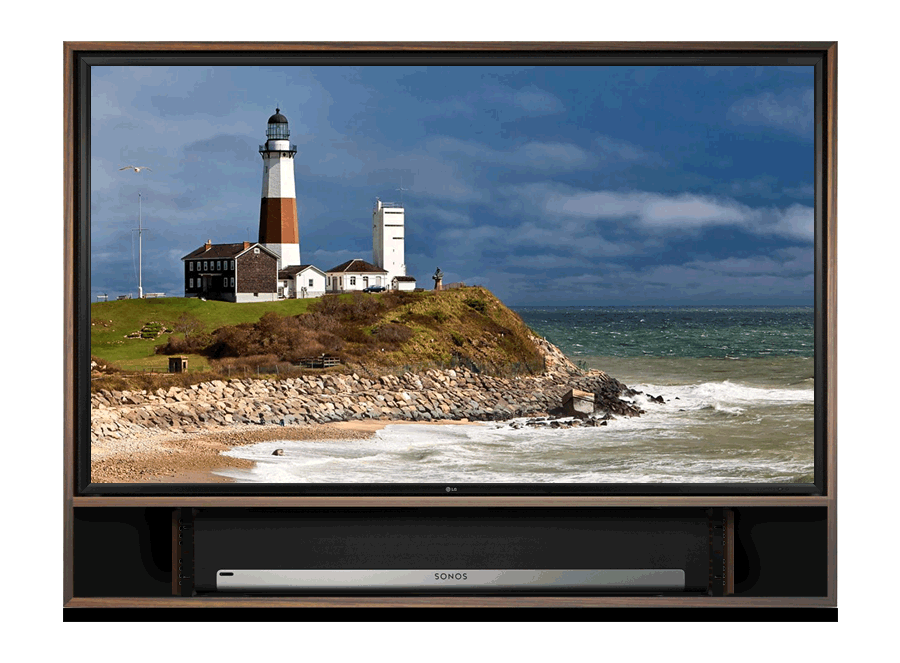 Sound bars are an affordable and easy way to get optimal sound without the bulk of a traditional surround system. A Soundbar System can be placed under or over your current television set, depending on personal preference for style, as well flexibility in placement. They can also be custom made, so no matter what size TV you have, it will look and sound amazing! Sound-bar installations have become as common place as mounting a TV because televisions today have become increasingly larger. However, due to their thin design it is impossible to get a matching speaker in them. The only way to match the audio experience with the video experience is either with a full surround sound system or soundbar. We do not recommend them for dedicated home theater rooms but they can really make the difference when you want to be immersed in your favorite TV show or movie. They can also be added to your whole home audio system like Sonos or HEOS.
Surround sound is what you need for a true life-like audio experience in your home theater room. Sound engineers use digital signals and codecs in movies, games and concerts because they want the listener to feel like their actually inside the content playing out on the screen. In order to achieve this, you must have multiple speakers placed in a specific positions around an isolated room. They can be a combination of floor standing, in-wall, in-ceiling Speakers (Atmos) and include at least one Subwoofer. The center channel handles about 80% of the audio content (which is what you see on the screen) the surrounding speakers and in ceiling speakers give audio signals coming from different areas off the screen, like foot steps coming from behind or aircraft flying over head, you get the picture. The subwoofer is non directional but gives your the life like low end of explosions and deep vibrations that amaze. When a surround sound system is installed and calibrated correctly your hair will stand on end just from the audio experience alone.
​
For the ultimate in interior design, invisible speakers are the clear choice. There are several reputable manufacturers that have just about perfected the experience of great sound quality without being visually obtrusive. They are not going to give you the incredible sound capability of floor standing speakers but they will definitely surprise any hi-fi listener. These speakers must be planned before the sheet-rock goes up and they come in many different sizes depending on the room and application. We also have invisible subwoofers to match. You will never be able to tell where they are but you will surely know they exist when you turn on your favorite playlist.
We hope you now have a better understanding of all the different home audio solutions available and we are always right here if you have any questions. Call us today to book your listening experience and discover what great audio sounds like, on any budget.
Stellmann Electrical is your home audio installation experts for Queens NY. We provide expert design installation, programming and service in Queens NY
Astoria
Little Egypt
Jackson Heights
Long Island City
Sunnyside
Woodside
Southwestern Queens
The Hole
Howard Beach
Central Queens
Briarwood
Corona
East Elmhurst
Elmhurst
Forest Hills
Forest Hills Gardens
Fresh Pond
Glendale
Jackson Heights
Kew Gardens
Maspeth
Middle Village
Rego Park
Ridgewood
Wyckoff Heights Bayside
Belleros
College Point
Douglaston
Little Neck
Flushing
Floral Park
Auburndale
Kew Gardens Hills
Fresh Meadows
Glen Oaks
Whitestone
Bellaire
Brookville
Cambria Heights
Hollis
Hollis Hills
Holliswood
Jamaica
The Rockaways
Arverne
Bayswater
Belle Harbor
Breezy Point
Broad Channel
Edgemere
Far Rockaway
Hammels
Neponsit
Rockaway Beach
Rockaway Park
Roxbury
Seaside